Magnificent Peacock
Discover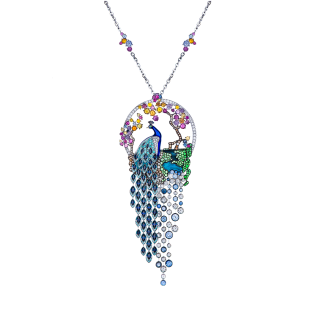 A symbol of status in the ancient Eastern civilizations, the peacock is the symbol of eternal beauty and dignity that is believed to transform evil into goodness.
Especially the Asian emperors of different times have chosen and used this magnificent bird as a symbol of empire. In fact, due to the significant values it represents, peacock motifs were only embroidered on royal attire.Moreover, in Anatolian civilizations, stylized peacock motif was used on various architectural elements.
The Magnificent Peacock Medallion, which took two years to complete with expertise of various craftsmen at each stage, consisting of Paraiba tourmalines, 18 carats of sapphire, savorites and diamonds in different cuts emphasizes our commitment to impeccable craftsmanship. This unique medallion with its elaborate craftsmanship and striking colours has been an iconic piece of Legendary Animals Collection.